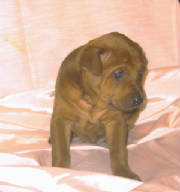 What Qualities do I breed for?

Breeder Aims and Goals?

How are our puppies raised?

What do our puppies come with?

What does my sales agreement include?

Detailed Sample agreement
WHAT QUALITIES DO I BREED FOR?
Si Dang Thai Kennels breeds for quality, not quantity and currently produces one litter per year. While I want to create the perfect Thai Ridgeback, I know this is an ideal rather than a reality. There is no perfect dog. I do, however, strive to:
be a responsible breeder
be an ethical breeder
produce healthy dogs with excellent temperaments
produce Thai Ridgebacks with versatility and working abilities
produce Thai Ridgebacks with excellent conformation.
Improving the breed is something else I strive to do. Admittedly, the improvement is limited to my pedigree lines rather than the breed overall, given my very low breeding rate. To improve my dogs, I carefully select breeding stock with outstanding qualities that adhere to breed standard.
I don't breed Thai Ridgebacks just to meet public demand or to help offset costs of my other dogs.
Puppies are only sold to loving and caring buyers who are willing to give their Thai Ridgebacks a loving home and hopefully some kind of a "career". I ask potential buyers, I don't demand it, that they become involved in either conformation, obedience, tracking, field trials or agility, because this breed is one of the most versatile breed in the world. The Thai Ridgeback excels in just about everything they do and enjoy lots of activities. Without a purpose in their life they could become bored and unhappy. If this happens problems arise in personality and temperament. Training and being actively involved with your dog also enhances the human/animal bond which is so rewarding for the creatures at both ends of the leash. A puppy that is not show quality can still compete in obedience, agility, flyball, fieldtrials, tracking etc for the same reasons.
In general, I don't usually sell my puppies to homes with children under the age of eight. While the breed can be good around children if properly socialized, Thai Ridgebacks are a primative breed that requires a lot of socialization and training. High energy dogs combined with high energy children make for a wild household. In the competition for parents' time, it's the Thai Ridgeback that usually loses out.
Our dogs reside inside our house as our family members, not in outdoor kennels. They each have their own crates and beds. They are allowed on the furniture in our family room. Sometimes it's a challenge for the humans to get sufficient space on the couch but we've managed to squeeze in one adult Thai Ridgeback, current puppies and four humans. It makes for a very cosy arrangement. Our puppies are whelped and raised inside the house with mom avaliable to them at all times.
BREEDER AIMS AND GOALS
To investigate and combat breed-specific health problems and to screen and clear all breeding stock we own against dermoid sinus before breeding.

To breed the healthiest, most beautiful and intelligent Thai Ridgebacks with the best temperaments possible.

To produce quality litters from time to time.

To educate our puppy buyers in the joys and responsibilities of owning and raising a Thai Ridgeback and to encourage them to get involved in conformation, obedience, field, tracking, agility and other canine activities to stimulate their dogs and to enhance the human/animal bond.

To keep the Thai Ridgeback breed versatile by training, competing and earning "degrees" with our dogs in rare breed conformation, obedience, and field, as well as other canine sports where time and money permit.

To provide a lifetime commitment to the dogs I breed and sell.
HOW ARE OUR PUPPIES RAISED?
Whelped and raised with love inside our home
Gently handled by humans every day
Wormed and given up-to-date inoculations
Weaning begins at around 4-5 weeks
Remain with the mother for the entire time and play with our older dogs when ready
Registered with the United Kennel Club
Crate-trained
Increasingly exposed to a variety of visual, auditory and tactile stimuli
Socialized and not less than 8 weeks of age before leaving for their new home
Sold to approved homes only and matched to owners' needs and interests
Show-potential dogs are co-owned with the breeder until the dog turns 5 years of age or are spayed/neutered.
WHAT DOES YOUR PUPPY COME WITH?
Separate sales agreements for non-show (companion-only) and show-potential puppies

Starter kit of food and water (unless shipped by air) and written instructions on feeding and training

3 or 4 generation pedigree and copies of sire's & dam's pedigrees and health certificates

Puppy photos and photos of dam and sire emailed

Follow-up information and assistance
WHAT MY SALES AGREEMENT INCLUDES
Highlights of Breeder's Commitments and Guarantees:
Highlights of commitments I seek from owners:
Raise the puppy with love in a stable, non-smoking environment
Crate the puppy when owners are out
Provide fresh water and feed high quality dog food
Provide vigorous daily exercise
Keep dog at its ideal weight with nails trimmed
Not leave the dog tied up in a yard for extended periods of time
Complete one basic puppy minimum 8-week training sessions and one obedience min 8-week training session before the pup's first birthday
Train for and try to complete one title on the dog by its third birthday
Show show-quality dogs to attain a championship title
Keep dog vaccinated annually and free of parasites
Spay/neuter non-show-quality dogs or dogs that will not be used for breeding by six months of age
Agreement to co-own show-potential puppies until the dog's 5th birthday
I care deeply what happens to my dogs and my commitment to them lasts their lifetime!
Copyright © 2004 Si Dang Thai Kennels. All Rights Reserved.